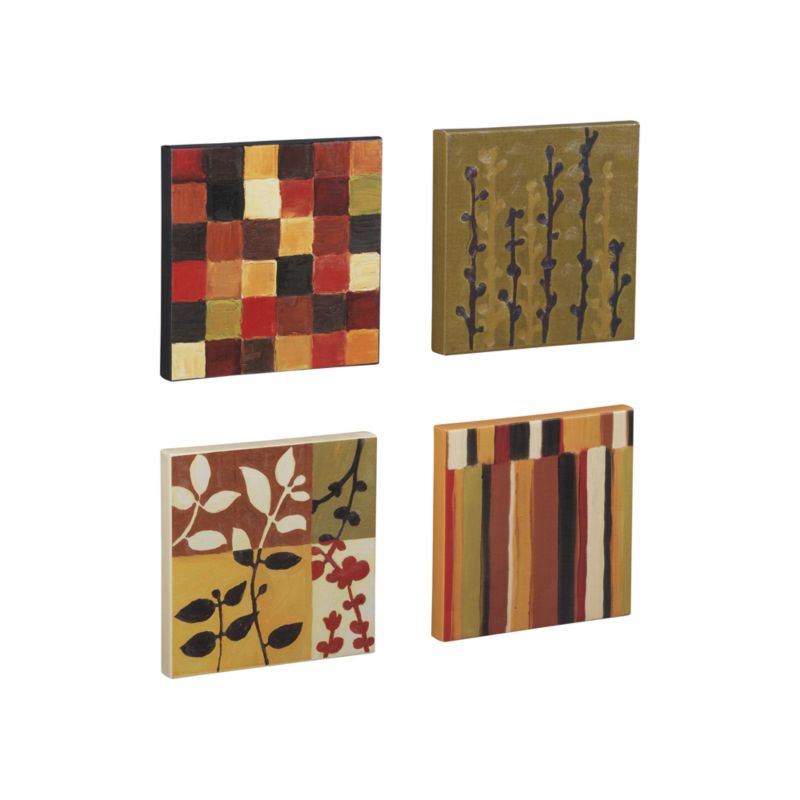 Ah, fall... it's definitely here! The leaves here in Massachusetts are really turning, and I hear by the end of this week it'll be quite chilly. So for today's challenge, here are some fall colors for you! I thought these Medley Prints from Crate & Barrel were really cool. Sorry that my photo here is so awful. Click
here
to see a better image - if anyone can tell me how to capture an html image of a dynamic photo, please do!
The colors in this artwork made me think of the Season of Friendship set and the Autumn Vine papers, both from the holiday mini catalog. ETA: I just realized I used the same set for last week's challenge... oops! At least this card looks totally different, LOL.
I stamped the tree image a couple times on very vanilla cardstock with chocolate chip ink, then added leaves in more mustard and really rust. I cut 1 5/8" squares from the branches and layered onto 1 3/4" chocolate chip squares.
The bird in the center is stamped in rust, with chocolate chip leaves, on one of the Autumn Vine prints. I used the same paper for the sentiment (from Thank You Kindly), which I punched out with the designer label punch and layered onto a wide oval chocolate chip punch. I added a couple vintage brads and some chocolate chip taffeta ribbon.
For mounting I used another print from the Autumn Vine collection for the background, on another layer of chocolate chip and a vanilla card. The branch squares are mounted flat, with the bird up on dimensionals, as is the sentiment. This is a pretty quick layout that I've used a couple times now, and I think it works really well here!
Come play the challenge - and yes, I'm posting early because I'll be out all morning tomorrow. This week's keyword for SCS is DSIC34. I'd love to see your creations!